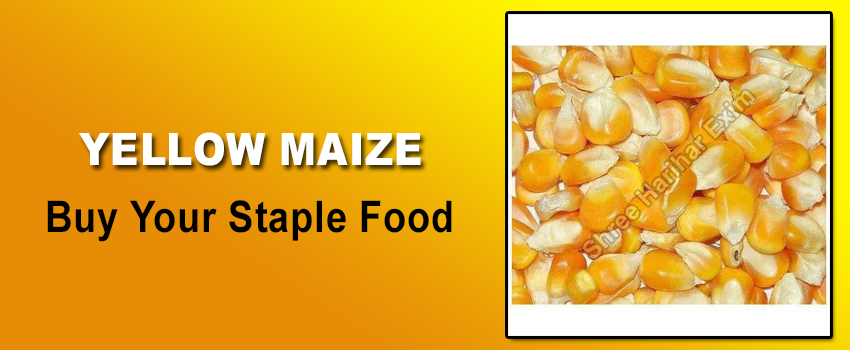 Yellow maize, commonly known as corn, is the third largest cereal crop in the world after wheat and rice. It is widely grown for human consumption and as a popular feed for livestock. This staple food is extensively used as kernel, flour, starch, meal, or flake. It is also used in the production of a variety of bread, tortillas, chips, breakfast cereals, and many other food items. Yellow maize is the most preferred poultry feed that also gives yellow colour to egg yolk, poultry fat and skin.


Health Benefits of Consuming Yellow Maize-

Prevents Anemia: Maize is extremely rich in Iron which helps your body form new blood cells. The presence of iron helps in fighting against anaemia and other blood-related issues. It can also help you prevent the symptoms of anaemia such as fatigue, dizziness, weakness, and shortness of breath.


Boosts immunity system: Yellow Maize is considered an immunity booster for the body. The presence of Ferulic acid and vitamin E ensures the availability of natural antioxidants in the body. These antioxidants help in protecting the body from various diseases and oxidative damage.


Protects your heart: Maize has an optimal combination of omega-3 fatty acids which get rid of bad cholesterol (LDL). It is also rich in magnesium which enables normal pulse rate and regulated blood pressure levels. As a result, consuming yellow maize reduces the risk of developing cardiovascular diseases like strokes and heart attacks.


Improves eye and skin health: Eating yellow maize is a great source of carotenoids such as beta-carotene. It helps in producing vitamin A which is extremely good for the eyes and skin. Vitamin A helps in the nourishment of the skin and is extremely good for your eyesight.


Supports gluten-free diet: Most grains such as wheat and barley have gluten but yellow maize is a gluten-free cereal. It is a great option for people who suffer from gluten intolerance. Hence, it can be enjoyed by anyone without any fear of complications.


In India, the cultivation of yellow maize takes place throughout the year. This American-origin cereal crop is primarily produced in the states of Karnataka, Madhya Pradesh, Maharashtra, Tamil Nadu, Kerala, etc. Due to the availability of vast and fertile land masses, India has become a leading yellow maize exporter in the world. The rising demand for yellow maize is because of the growing population and expansion in its usage for industrial purposes. The global maize market is expected to grow in the future which has created tremendous opportunities for yellow maize exporters.

The popularity of exporters of yellow maize is due to the following reasons-

They procure from the best sources in the market to ensure healthy human life.

They have well-equipped units with the latest technique and machines to ensure productivity.

They supply yellow maize which is authentic, organically processed without adding any harmful preservatives and fertilizers.

They ensure that each lot goes through explicit quality checks under the supervision of quality inspectors.

They offer class-apart quality maize at exciting discounts with super-fast and convenient delivery.

They meet the highest quality international standards to become popular in the global market.

Conclusion
Thus, it can be stated that yellow maize is an important crop for food and other industrial uses. Choose the best yellow maize exporter to get the best produce for your daily diet addition.